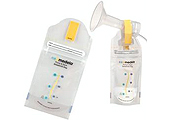 A federal court in Connecticut has determined that a jury could reasonably find that Yale New Haven Health Services Corporation ("Yale") discriminated against a female employee because she needed to pump breast milk at work. The court found that discrimination against an employee for pumping breast milk violates both federal and state laws that protect employees from pregnancy discrimination.
Because Yale argued that the court should dismiss the female employee's lawsuit through summary judgment, the court's decision described the facts in the light most favorable to the female employee. According to the court, the managers at Yale at first had no problem with the female employee pumping breast milk in her shared office or in her supervisor's office. When she got a new supervisor, however, Yale instituted a new policy that required the female employee to pump breast milk in a designated lactation room. When the female employee inquired about this new policy, she was told that someone had complained about her pumping breast milk in an office.
The female employee complied with the new policy at first but trekking down to the lactation room to pump breast milk interfered with her ability to do her job. The female employee served as a Clinical Bed Manager and her job required her to communicate with other Yale employees regarding admissions, discharges, and transfers of patients. She could not communicate with other employees while she was in and walking to and from the lactation room.
The female employee tried to persuade management to let her return to pumping breast milk in an office, instead of the lactation room, but they refused. After butting heads on the issue a few times, Yale fired the female employee supposedly because the employee briefly viewed a patient's chart even though viewing patient charts was related to her job. The court determined that a reasonable jury could determine that Yale illegally fired the employee because of her need to pump breast milk and because she complained about Yale interfering with her ability to pump breast milk at work.
Many female employees who must pump breast milk at work have to decide where in the workplace they will pump. While a lactation room might be helpful and make sense for some occupations, it is not going to work for everyone. This case shows that employers with rigid policies on where female employees should pump breast milk could violate a woman's rights. It is not fair to force a female employee to choose between doing her job effectively and pumping breast milk for her child.